Contractor Stories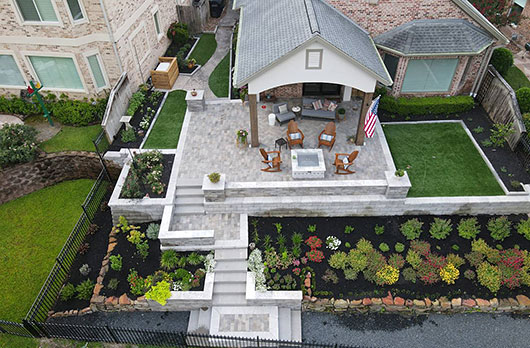 At Prime Lawn nearly everyone knows how to do everything

By Tom Hatlen

At Prime Lawn just about everybody is cross trained in just about everything. Contractor Matt Griffin says cross-training is the only way they are able to offer all the services they do, consistently do them well and serve clients as a 1-stop design/build shop.

They offer professional design, installation of hardscape, landscape, irrigation & drainage, lighting, ponds, waterfalls, mosquito misting systems, sod, putting greens and stone walls along with a hardscape cleaning, sanding and sealing service.



Profile

Prime Lawn/Prime Design

Porter, TX

Matt Griffin, President

Customer base

90% residential

10% commercial

Services

40% hardscaping

30% landscaping

10% irrigation installation & maintenance

20% water features

Project price range

$5,000 to $250,000

Annual sales

$2 million

Employees

19

Most recently they've been doing lots of porcelain which they install on pedestals, in sand and thin set on concrete, sometimes on garage floors.

And, nearly all of Matt's 16 field employees are proficient in all of those things. "I have 6 crews and all but the 2 technicians are cross trained, meaning that everyone can put in a water feature. Everyone can put in porcelain, mosquito systems and fire pits.

The 2 technicians are specialists in mosquito system maintenance and hardscape maintenance.

"The 5 man crew is our main construction crew. They do the heavy lifting, the bigger projects, the 1,500 sf, 2,000 sf, 3,000 sf projects. We have 3 people on the bed detail/landscape/irrigation crew, 2 on our tech repair crew, 2 on the pond and paver maintenance crew, 4 on the landscape / Irrigation / hardscape / lighting / drainage crew, 1 in the warehouse, 2 in the office and me."

Matt says employees have their preferences for different types of work, but overall the cross-training approach works out well. "If we have a guy that takes a day off or if somebody calls in sick, there's always somebody to pick up and keep moving forward."

Cross training takes time. "It takes 18 months to 2 years to get crew members to where they would be considered at the basic skill level between drainage, irrigation and lighting and mosquito systems and things like that. But it is important. It adds value to the company. It adds value to the employee."

Matt created a pay scale to reward employees as they become proficient in more skills. "It's basically an Excel spreadsheet that we created. Once they've mastered a portion of it, then obviously that makes them more valuable to our company and they will get paid more."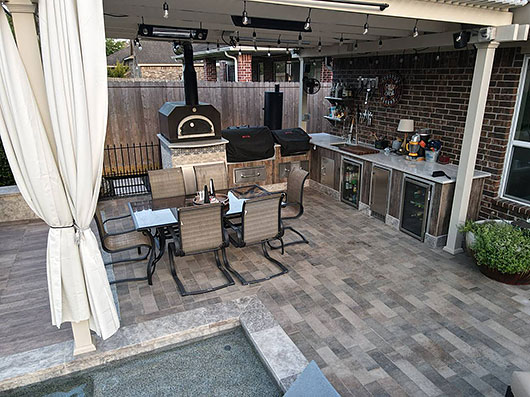 Is it complicated? Matt says, "Well, we've been doing this for 20 years. 'Complicated' was when we didn't have trained guys. You can never train them enough. There's always new products. There's always new services. There's always new ways of doing things."

"When something new comes out and we're not fully trained on it, it only takes 1 time with 3 to 5 guys standing around on a job trying to figure out how to install it. The clock's ticking and we're losing money."

"The key is to put employees in a position to where they understand what they need to do before they go to a job site. So when they get there they fundamentally know the steps to get from point A to point B."

"It is vitally important for each person to have enough knowledge that no one has to stand over them and tell them what do 15 times."

To get people up to speed, they schedule each employee for 1 hour of training each month. Matt says they don't plop everyone in a classroom at once. They train maybe 3 to 6 people at a time. They might go over a new product, a new installation method or they might do a refresher on something. A lot of times this involves manufacturer videos on YouTube.

Beyond the monthly training, they take time out every year to send people to Belgard University, Aquascape in Chicago, HNA in Louisville, World of Concrete in Las Vegas and other events.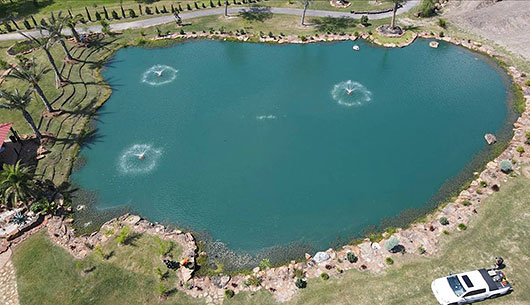 Hiring people worth training

Of course, nobody wants to train employees who are going to leave. Thru the years Matt has found that tolerance of the Houston area climate is one of the biggest factors that determines whether new hires will stay on.

"The climate here is a big deal. We have 4 to 6 months of really good weather, but we have 3 months of unbearable, insane heat too."

He has a strict hiring policy requiring a minimum 3 to 5 years experience. By experience, he means new employees have done their time in the sun and know what they're getting into.

For a couple years, Matt tried hiring people without experience, but who had great attitudes and showed exceptional interest in doing the work. "Not a single person ever made it. They were great in January when it's 60 degrees. But when we got to June and it's 100 degrees like it is today (June 7), they're not efficient anymore. They're not the person we thought they were."



Employees have to want it

Matt says prospective employees also need to have a willingness to learn and to leave behind bad habits learned elsewhere. This narrows the field to a select few so Matt has adjusted his sights to grow slow. His goal is to hire just 2 additional employees each year. And, he says only 1 of those 2 employees typically ends up staying with the company for a year or more.

New people start cross training almost from the start. They move to a different crew every 3 months. "We care about our employees. We offer them benefits. I pay 50% of the health insurance. They can even have a retirement program we set up for them. I mean, it's a win-win for them, but they have to want it."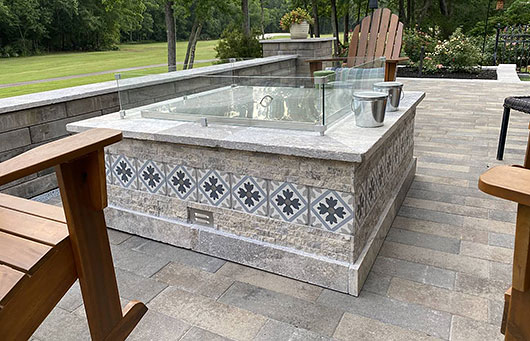 Still working

With all those crews doing all those different things you would think managing them would be Matt's full-time job. Yet he still works in the field about 50% of the time. He says, "I'm very efficient in how I create quotes. We can do everything remotely. I can do office work from wherever I am.

"We have GPS coordinates on all of our crews. So we always know where they are. We have an office manager that handles the paperwork and takes care of a lot of the detailed stuff that I don't have time to do.

"When I'm in the office, I'm usually talking with customers, creating bids or designing projects. The rest of the time I'm working in the field."



Count on equipment

Matt's got more to say: "I want to add 1 more thing. With the ongoing employee shortage and increased employee costs, equipment is invaluable. And it's becoming more effective and more efficient every year.

"It's sad. So many contractors that I talk to are not willing to buy a simple thing like a Dingo. A Dingo is a must for us. Skid steers and excavators are such valuable tools because you're not wearing out your employees. They're not going home at the end of the day saying, 'I hate my job.' They're saying, 'I love my job. I get to use really cool tools that help us get things done and make our work so much easier.'

"Equipment is important for employee retention. We look at it as, we're going to make that $50,000 or $100,000 investment and buy a piece of equipment. We're going to charge our customers for it. And it's going to make our installation faster, safer and easier on our employees. We take pride in our work. We also take pride in the equipment we use."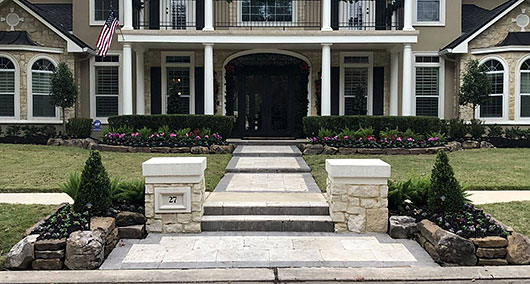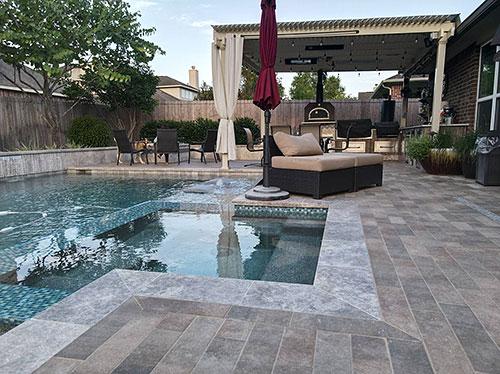 Going porcelain
Prime Lawn stays up on the most recent trends, tools, equipment, methods and materials – a fact that is not lost on clients. Their expertise has allowed them to become the go-to contractor for high-end porcelain paver work.
"We do more and more every year," says contractor Matt Griffin. "It adds a different dynamic to an outdoor space. In our climate, porcelain is huge because it's never going to fade, it's very difficult to crack or scratch. You don't have to reseal it.
"It's all high end. The total cost for a porcelain install is about 4x more money. You're looking at a clientele with a larger property that isn't too concerned about cost. They want it to look nice and they don't want to mess with upkeep."
He says the cost evens out some in the long term. "It adds up if we come back 3 times over the course of 10 years to clean and seal a concrete paver installation. You don't have that with porcelain."
"It's very easy to clean. Most of the time you can just take a water hose and a broom, and brush it down. If somebody drops oil or spills something on it, they can easily mop it up like they would an interior floor. Or, they can use light duty, hardscape cleaner acids to easily remove pine tar, mildew or droppings from trees."
Prime Lawn crews are trained in various exterior porcelain installation methods (pedestal, sand-set, thin set over existing pavement, etc.) in addition to garage floor applications.
Matt says, "We've done 3 really large jobs on garage floors. We'll strip out the existing surface and then there's a certain thin set that you need to put down, a Laticrete product. That way we can guarantee the porcelain pavers aren't going to move under the weight of the vehicle. Our supplier helps us learn all these things."