News Summaries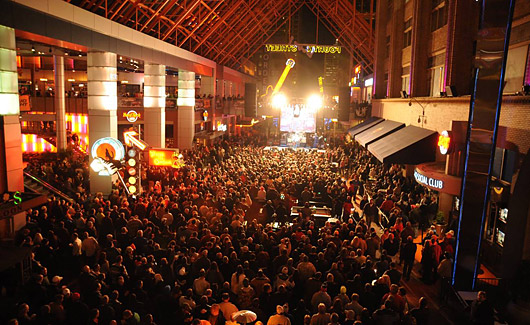 Fourth Street Live!
Time to go to HNA, GIE + EXPO!
With over 750 exhibits and 19 acres of outdoor demo space, Hardscape North America combined with GIE+ EXPO ranks as the 9th largest tradeshow in the U.S. It's by far the largest event of its kind anywhere in the country.

What does this mean to you? You'll want to set aside more than a day just to walk the show. This is especially true if you also do landscaping work, and exceptionally true if you do landscape maintenance work too.

In the outdoor demo area you can dig, move dirt or materials with a Case, then a New Holland, then a Cat, then a Bobcat and on and on. There are also more and more hardscape suppliers outside, and they always seem to be demonstrating their outdoor kitchens grilling up free samples.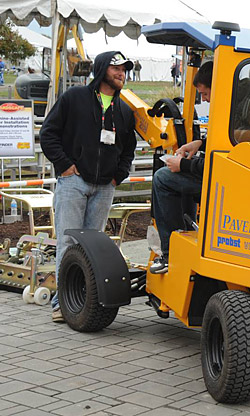 Get smart
Whether your company is large or small, there are many opportunities for you to learn new things to advance your business. Combining education programs with those of the other organizations at the show adds up to over 85 classes, demonstrations and workshops.

There are hands-on installation classes and certification classes to take your expertise to the next level. Plus, the educational opportunities to refine your business management skills are second to none. Be sure to take advantage of the networking opportunities such as roundtables; you will find the best and brightest of contractors there and willing to share what they've learned.


New for 2012 – The Hardscape Contractor Executive Workshop
HNA 2012 will feature a new roundtable workshop designed specifically for experienced hardscape contractors. It takes place Wednesday, October 24th from 12pm to 3:30pm. Topics include:


Reduce Profit Risk & Increase Profitability – Cash Management & Forecasting in Rough Times
Renting Equipment vs. Buying Equipment & What Services to Keep In-house
Advertising Using Social Media
How to Stay Compliant with DOT, OSHA, & EPA Regulations
Motivating & Leading Crews
Succession Planning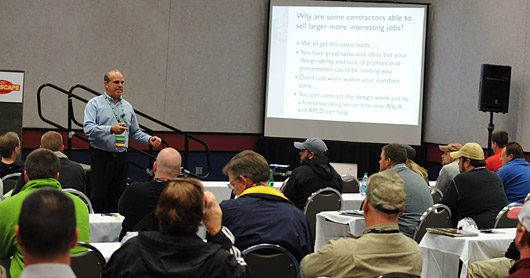 Vander Kooi Associate Joe Palimeno at HNA 2011
Big entertainment
Big name entertainment at Louisville's "4th Street Live!" is a free bonus for attending the show. They block off the street and plant a big stage there surrounded by night clubs and nice restaurants. This year show management added a 3rd night of entertainment to their program.

Legendary rock band, Kansas, will perform Wednesday, October 24. The Eli Young Band plays Thursday, October 25, and Friday night, October 26 it's rising country-rock star Candy Coburn.

So, if you go, expect to spend several days there to maximize your experience.

HNA is produced by the Interlocking Concrete Pavement Institute and endorsed by the Brick Industry Association and National Concrete Masonry Association.