News Summaries
New HNA Installer Championship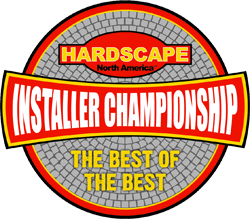 Think you're good? Let's see you prove it! The first HNA Installer Championship lets you pit your skills, dedication and passion against teams from the United States, Canada and Mexico. Up to 12 teams of 2 installers each will be tested in a race against the clock and other top installers.

Teams compete for a $1,000 top prize, the HNA Installer Championship Cup of the Year, bragging rights, free tools and tons of free PR including recognition on the HNA and ICPI websites and in Hardscape Magazine.

The Championship is restricted to professional retaining wall and paver installers. No "civilians!" In addition to 2 crew members, you can register 1 crew alternate. For a complete list of registration requirements visit HardscapeNA.com.

The contest takes place over 2 days, Oct 24 & 25. Teams will be judged on their installation technique and final product within the allotted time. There will be 4 preliminary rounds with 3 teams each. The team with the highest score in each round advances to the to the semi-finals as do 2 wild-card teams. 3 semi-final teams advance to the finals.

This Installer Championship determines the best of the best. Plan now to be there Oct 25 at 3:30pm so you can receive your award!

To learn more about Hardscape North America and the Installer Championship visit HardscapeNA.com.