Contractor Stories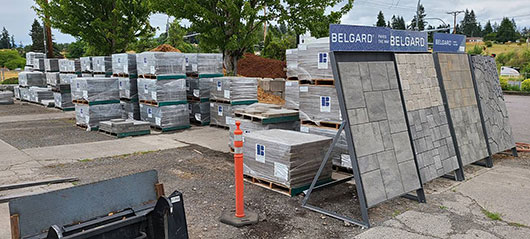 Contractors start up a supply yard
Opening a supply yard wasn't in the plans, but the opportunity was too good to pass up.
By Tom Hatlen

For the first 7 years in business, father and son team Brian and Cohan Fish had operated their contracting company out of their personal properties. Cohan says, "Once your fleet gets up to 5 or 6 rigs with 5 or 6 trailers and 3 - 4 pieces of equipment, it doesn't really fit anymore. And, logistically it was a pain."

Brian says, "Our wives were asking, 'Why do we have to have all his stuff in our yard? You're landscapers, and our yard looks worse than everybody else's.'"

So they began shopping for a separate facility to house their business, a place to store vehicles, equipment and maybe stockpile some of the materials they use most often. They were looking to buy a 1-acre property.



Profile

Shovel and Thumb LLC

Ridgefield, WA

Founded 2014

Founders/Members

Cohan Fish, Brian Fish

Contracting business

Customer base

90% residential

10% commercial

Services

60% hardscaping

30% landscaping

10% Irrigation installation & maintenance

Project price range

$3,500 to $100,000

Annual sales

$1.2 million

Employees

7-8

Supply yard

Customer base

70% residential

30% commercial/contractors

Services

60% Bark mulch & soil sales

25% Aggregate sales

10% Block & paver sales

5% Sod sales

Individual sales

$33 to $5,000

Annual sales

$500,000 (projected)

Employees

3-4

What they found was the site of a former garden center in Ridgefield, WA that had been vacant for 2 years. It's about 14 miles away because real estate near home (Vancouver, WA) was pricey.

The price was right and the new facility had all the room they could possibly want for their installation business. It was also big enough and perfectly situated for a retail supply yard. Opening a supply yard wasn't in their plans, but the opportunity was too good to pass up.

Brian says, "We bought 3-1/2 acres instead of 1 acre for the same price. We secured the property January 1 and opened the supply yard for business March 1. Since then real estate prices in Ridgefield have gone way up. Today it would cost almost another half million dollars to buy the same property. It's crazy."


Supply sales take off
But, isn't it also a bit crazy for a hardscape/landscape contractor with no experience in retail sales to open up a supply yard? Brian and Cohan don't think so. The supply yard alone is on track to earn around $400,000-500,000 in sales in its 1st year.

Brian says, "We didn't anticipate the supply yard would generate the amount of revenue it is. We thought we'd have to support the supply yard with the construction. We were just hoping the supply yard would help offset the new costs. But, starting day one, it's supported itself."

They knew the location had great potential. Brian says, "The growth is tremendous in this area. Hundreds of new homes are going in right around us within a 4 mile radius. And the closest other supplier is maybe 7 miles away."

Cohan says there's a lot of goodwill toward the property as the local garden center. "We spent some money on a nice sign we put up. And, we're on a corner lot. It's a signalized corner so we get a lot of traffic. Once the spring weather came, the people came too.
It's mainly homeowners, some contractors."

The products they sell are the same ones they frequently use on jobs: "a variety of bulk products ranging from bark mulch to crushed aggregates and rocks" as outlined on their e-commerce site that went up in May: https://shovelandthumb.com/products.

The new facility has enough space to store all of their trucks and equipment indoors and all their materials for upcoming jobs. Brian says, "We probably have 10,000 sf of pavers onsite, and all the retaining wall block that we install. Especially now when everything's so difficult to procure, we make sure that we have everything we'll need well in advance."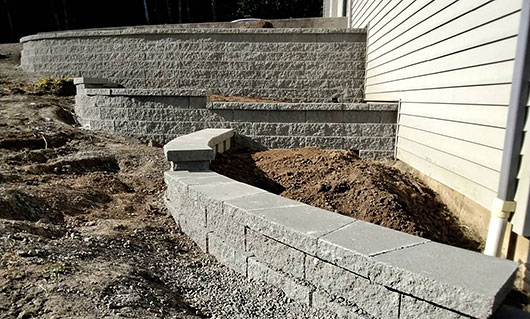 Brian says they no longer buy bulk products for a project on the fly at potentially high priced suppliers closer to job sites. "When we load up in the morning, we take all our materials, all of our aggregate and bark mulch with us to the job site.

"We're saving a lot of time just procuring products. We get a volume discount, so we're probably saving 20% to 30% on our consumables. That's a big deal. Plus we're selling it retail, which is even better."


Supplies change lives
Things have had to change after starting up the new supply yard division. Starting this year, neither Brian nor Cohan work in the field. Brian is now full-time Supply Yard Manager and Cohan manages the landscape division and does install sales.

Cohan says, "In the past, my dad and I would both kind of tag team the construction. I was more boots on the ground managing the construction actually doing the installs, and dealing with customers. And, he was doing most of the procuring, the prep work and the bidding. But now, he runs the yard and my brother Durant is the foreman. He's the boots on the ground."

Also new this year, the addition of the supply yard served as the catalyst for adding 3 to 4 full- or part-time yard workers, and for hiring 1 full-time office person (Cohan's mom) and 1 part-time office person to support both divisions.

Cohan says the additional work and sales volume helped them justify the new office hires. "Before we hired a bookkeeper, I'd do all that, taxes, billing, everything, myself. It was a lot of late nights."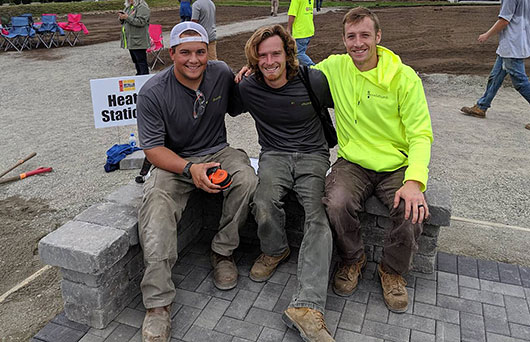 Brian's new job
Brian thought working in the yard would be easier. But he says, "I'm working more hours now than I've ever worked, 10 to 12 hours a day. And we are open 6 days a week, so Cohan and I switch off working Saturdays."

"Last year I was laying pavers, and designing, and installing irrigation, but I haven't done any of that this year. I miss the design, the creativity part of it and seeing the change of a landscape from nothing to something that's gorgeous that the homeowner appreciates.

"But now I get to help people and share what I've learned and teach the DIYers how to do things, and I enjoy that. I like what I'm doing."


What's next?
This year they are primarily using 2 buildings on the site for most everything. Brian says, "The admin building is probably 30' x 50' where we have our offices, our reception area and a plan room where we can bring customers in. It's pretty nice. And then, we have a big barn where we keep all of our equipment and stockpile products. It's probably 80' x 30'."

"There's 3 huge greenhouses we haven't even started using yet because we got into the game too late to do plants this year. So, that'll be our new adventure next year. I'll probably start ordering plants in September or October.

"Yes, it's scary because we've never done [plants] on a big scale, but we've always had areas where we kept plants for our projects. I've been procuring plants for probably the last 15 or 20 years. We won't be growing anything from seed. But, we know how to take care of them, we know what is going to sell, and we'll use them in our designs."

At some point they are hoping to morph the supply yard into a complete hybrid garden center/landscape supply center carrying pavers, retaining wall block, edge restraint, plants, fertilizer, bulk products and irrigation supplies. "Someone could come here and buy everything they need for their entire backyard. But, the plants are our next step, and then we'll see where that takes us."