Contractor Stories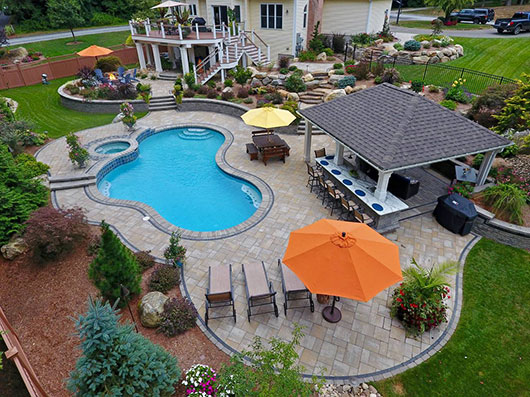 Hand drawings win big projects

Clarke Landscapes built an HNA Project Award winner with a 2-man crew, the same as they use for all projects.

By Tom Hatlen

Over the years, Mather Clarke has thought about going digital with his designs. "Sometimes I think maybe I should get a program that lets me show 3D or fly-throughs, those kinds of things. A few clients have asked about it. But I've found a lot of times, they see a hand-drawn design, and they say, 'Wow, you drew these by hand! There's some real artistry there. It shows some talent.'"

Mather does all his drawings with a black #2 pencil on 11" x 17" sheets of graph paper. The drawings are in "plan view," the view from above. He's found that what's most important is that the drawings and the presentation are detailed, well thought out and creative.

This particular project became an HNA 2019 Project Award winner for residential concrete pavers less than 3,000 sf. "The client told me upfront, 'I know this project's going to be more than $100,000.' I think they were really just looking for someone that could give them a 'Wow,' project. So I just went all in with the design.

"It took me about 45 minutes to walk them through the design. It was a very complicated job in terms of elevation changes especially with all the features they wanted, and working around an existing pool. I changed the whole yard so significantly, it was basically unrecognizable. I was excited about it, but I had to slow down and show them how it was all going to work.



Project Profile

HNA Project Award Winner - Concrete Pavers less than 3,000 sf

Private Resort, Hebron, CT

Design/build contractor

Clarke Landscapes, Bolton, CT

Project Designer

Mather Clarke

Project Manager

Dave Doster

Project size

Approx. 1/2 acre

Project value

$323,000 (Price covers pavilion & deck work, but not other subcontractors)

In-house work

Excavation, pavers, retaining walls, plantings, landscaping, lawn, low-voltage lights

Work done by others

Pool work, fencing, carpentry (deck & pavilion), gas work, electrical, A/V, masonry

Project start

9/13/2017

Project completion

6/10/2018

Number field employees

10

"After I finished the presentation, they sort of sat back and said, 'Wow, this is incredible.' I don't think they talked to any other companies after that meeting."



The property as he found it

Mather says the existing landscape, the pool, patio and deck was about 30 years old. "It was a very basic job. It was just a patio around a pool, a little retaining wall, some plants. Back in those days, the notion of outdoor living wasn't what it is now.

"There were a couple of sinkholes in the back from when they cleared the lot. They buried the stumps and construction materials. One of the sink holes was right underneath one of the old retaining walls. The clients were a little frustrated with the ongoing repairs of the yard."

But, the old deck was the biggest design issue. "The existing deck was shifted over to the pool side of the house. It was almost looming over the pool. You could nearly jump off the deck into the pool. It was that close. The pool was very enclosed with a lot of privacy fencing. It was just not a relaxing feeling out there."



Prepping the site before winter

Building the project spanned 2 seasons: 2 months in 2017 and 2 months in 2018. At the end of 2017 Mather's crew demoed the site. They tore everything out except the barebones of the pool and the hot tub. "There were dumpsters and dumpsters full of wood from the deck and old fencing. We removed all the shrubs, all the patio concrete. We removed everything, to almost how it might have looked when they built the house.

"Then we put the footings in for the deck and the pavilion, because my carpenter wanted to work on them during the winter, while we weren't in his way. So we made sure we left good access for his deliveries and materials and so forth. It actually worked out really well."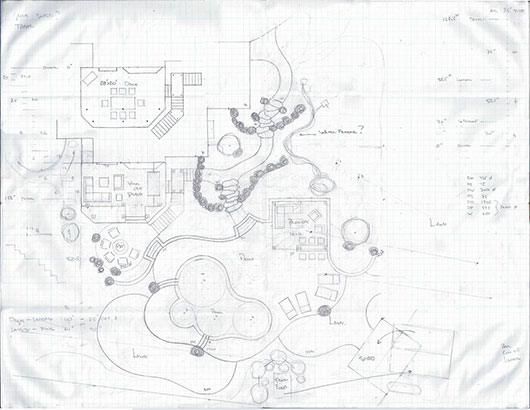 Mostly a 2-man crew

For most of the project, Mather operated with a 2-man crew on site. That's his standard crew size even on large projects. "We have a lot of machinery so that 2 guys can be working in skid steers or mini excavators at the same time. And all my guys have been with me a long time and really know what I'm looking for. They get a lot of work done quickly.

"Some of our projects are so complex. These guys are shifting gears all the time. They're doing one task one day, and something else the next. To have 3 or 4 or 5 guys on a project, I've found it's just too many."

The exception to the 2-man crew rule occurs on days where they will be doing a lot of repetitious work like paver laying, wall building or planting. Then they go to a 4-man crew. "It gets a little overwhelming for 2 guys. We'll bring in 2 more guys so they can knock it out in a day or 2."



Everything revolves around the pool

Mather was able to salvage the existing pool by making it look new. His design called for renovating it with new coping, new tile and new plaster. "We also moved everything to where it made more sense. The pool equipment was like 10' from the pool, who wants to look at that?"

So he redesigned the pool equipment to be about 50' back behind the shed which he had also moved away from the pool. They buried a 1,000 gallon propane tank back there for the gas company too.

"The pool is the main star of the yard. It's the main feature. Since its elevation and positioning were fixed I started by designing that area.

"From there, one of my design tenets is sort of a hub method where I design different areas that have their own uses and their own furniture and so forth. But they are still connected, either sight line wise, or traffic flow wise, or both. So they transition easily from one to another.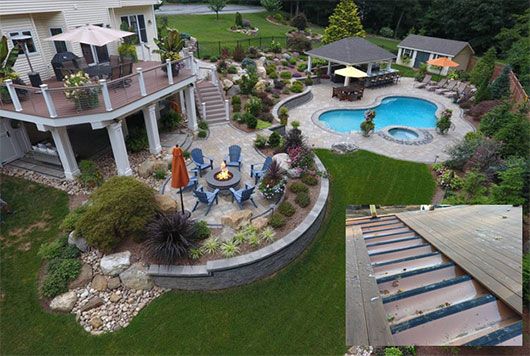 "It's not like 1 giant patio with 5 different uses on it; it's 5 different smaller patios with different elevations or different shapes based on their purpose.

"Off the pool, we've got the pavilion area at the pool level which functions as a bar and a lounge. There's a TV there with couches. The pavilion has recessed lighting and heaters, speakers. There's a sink there.

"Going up a set of stairs towards the house and the deck is the fire pit area. It overlooks the pool, but it also ties back to the area beneath the deck which is also a finished area with outdoor sound and TV, heaters, recessed lighting and an outdoor shower. That area functions as an outdoor space connected to the house.

"If it's a nice evening in November and the pool is already closed, they can still enjoy the outdoors in that covered area under the deck. It's convenient, with sliding doors at the walk-out basement level, and transitions out to the fire pit and down to the pool for the summertime."



Managing subs and construction

For a project like this Mather relies on subcontractors which he manages as a general contractor. "Our clients don't want to be coordinating 10 contractors, and they give me the freedom to bring in the subs that I like to work with. So, when something comes up and I need the electrician to come in tomorrow, he'll be there.

"Coordinating all the subs was probably the most challenging part of building the project. It was the sheer size and complexity of the project and all the different elevations. Everybody needed something at a different time.

"And for us, it led to a lot of critical thinking, 'Hey, wait a minute. We can't build this wall because we still need access to here.' So maybe we build half the wall and then do this other half of the patio, and then flip back. There was a lot of flip-flopping back and forth to make sure we weren't blocking ourselves out."

Project Manager Dave Doster is Mather's right hand man managing projects and subs with the job foreman. "He's where I can't be. Nowadays I spend most of my time running the business and doing office work and brainstorming designs for the next client, and checking in on jobs in progress."

While Mather rarely does field work anymore, he's not about to give up doing design work. "I don't want to give up the drawing, the satisfaction of the drawing by hand. Doing it on a computer doesn't really interest me."



"We pride ourselves on being a big enough company to handle any size project, but also small enough to give great personal attention to each client. We make even the larger projects relatively painless and keep it a fun process for the client."
– Mather Clarke