Contractor Stories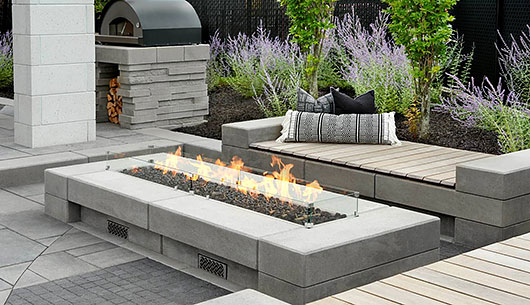 Interior design wins exterior awards

By Tom Hatlen

This Staycation project brought home 2 HNA Awards for contractor Tony Zambito and his company Zamco Group. The project was also Techo Bloc's 2018 Showcase project.

Tony says for his company a key to creating standout projects has been applying interior designs to exterior work. "Hardscape design always follows interior design by about 5 years. So we follow interior design trends more than hardscape trends.

"And, when a new product comes out, we try to be the first ones to experiment with it in a project and find interesting ways to use it. That's where we caught the homeowner's attention years back.

"He was very comfortable that we had the capabilities and the knowledge to build a project like this. We're not afraid of challenges. We take on anything head on and find a way to do it."

Zamco showcases their work on social media to impress prospective clients. "Our projects come first, but social media comes second. We are very conscientious to be constantly putting up new things on social media. We want to show people that we don't build cookie cutter type jobs. We're known for pushing the boundaries and for making every project unique."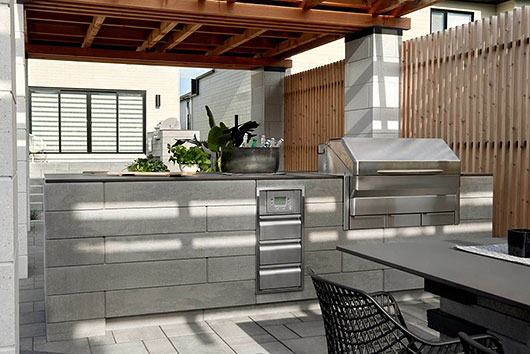 Interior becomes exterior

Tony became impressed with interior design after learning about his wife's work. "My wife's an interior designer, and that's what really moved our company in a different direction. I stopped looking at what was in style for hardscape, and I started looking at what was in style in interior design – because that's always where hardscape goes.

"Focusing on interior design gives us a different perspective than our competitors. A lot of people are closed minded. They play it safe with their designs. If you're going to play it safe, you'll never create something new.

"Pavers are just a bigger thicker version of interior tile. Tiles were getting bigger and bigger. Then a couple years later pavers started getting bigger and bigger. Tiles that looked like wood became popular. Years later you started seeing pavers that looked like wood. Following interior trends, you can gauge where exterior hardscape trends are going."



Social media sells work

Tony is serious about reaching clients thru social media posts. He views social media as a direct personal communication between himself and clients. "I handle all my social media myself. I try to keep it authentic to my brand and therefore I do not want it handed over to someone that is only posting for likes/followers. It's important that the content we put out there gives us credibility and transparency which the clients appreciate.

"We focus on Instagram the most because we create more leads from there than any other platform. I can post simultaneously to Facebook and Instagram."

He posts photos of finished projects, 3D renderings, progress photos of the projects, and as much informative content as possible. He tries to post daily in the summer months and every 3-4 days in the off-season. But he makes a point not to waste anyone's time. "I only post if I have content worth posting."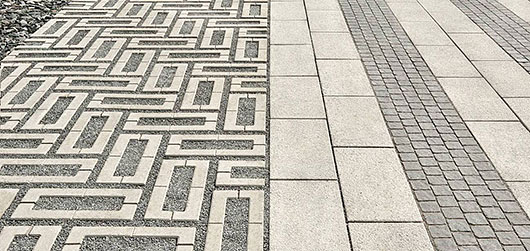 Let subs excavate

This project took 3 to 4 weeks to build with 6 crew members. But that doesn't include excavation time because Tony relies on 2 subcontractors for his excavation work.

"I used to excavate my own projects and I still have the trucks, the excavators and the skid-steers and all that stuff. What I don't have is time. So, 4 years ago, I began subcontracting all my excavation to 2 companies that do it all day, every day.

"They work for me 2 or 3 days a week. Because of the volume of work that I give them, they show up promptly when I need them, and get the job done.

"At the beginning I had to be on site to make sure that they understood what I wanted. Now, when we show up everything is done and ready for my guys to get straight to work and generating revenue building hardscape, what we specialize in. And I don't need to worry about excavation equipment and extra employees to operate it."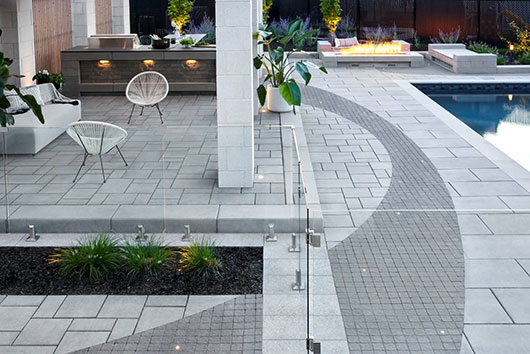 Lime vs clay & rain

On this project, the house had just been built, the pool was in, the excavation was done and Tony's crew was ready to build. "The second the excavation was finished, we were bombarded with rain for days. The yard was mostly clay, and it was a swamp. It was never drying out on its own."

So the Zamco crew spread a thin layer of dolomitic lime, about 30 bags 66 lbs each, over the 2,500 sf excavated area and a 2" layer of #57 clean stone on top of that. Then they compacted to work the lime into the clay. Dolomitic lime changes the molecular characteristics of clay and allows rain water to seep thru the open graded stone into the subsoil.



Project Profile

Staycation

Chambly, QC, Canada

2020 HNA Awards

Winner - Concrete Pavers less than 3,000 sf

Honorable Mention - Outdoor Living Features

Design/build contractor

Zamco Group

Montreal, QC, Canada

Project Designer

Tony Zambito / Techo-Bloc Design Team

Project Manager

Tony Zambito

Project size

2,500 sf

Project value

$323,000 (Price covers hardscape, pavilion & deck work, but not other subcontractors)

In-house work

Project management, pavers, walls/planters, outdoor cooking structures, fire pit and seat walls

Work done by others

Excavation, pool work, fencing, carpentry, gas work, electrical, masonry, lighting, planting

Project timeframe

3 - 4 weeks

Number field employees

6

Tony says it took 3 compactor passes to work the lime in well enough that they could start working. "Then the rain picked up again. But, the water just seeped right through. And, the second it stopped we went right back to work. We probably would've had a month of lost days if we hadn't amended the soil."



3 types of cooking areas

With the site now workable, the crew began installing foundations and outdoor room structures including 3 different types of cooking areas. There's the pizza oven, a wood chip barbeque and a gas grill. Tony says cooking is one area where exterior design leads interior design.

"A pizza oven outdoors will hit 900 degrees on any given day. Inside in the kitchen, a top-of-the-line stove might hit 600 or 700 degrees. You can't smoke something inside. But you can outside. Nowadays people invest more in their exterior kitchen than their interior kitchen."



3 permeable build methods

Zamco finished out the hardscape portion of the project installing pavers. They used 3 different permeable paver build methods to more than comply with municipal requirements for drainage.

In the driveway, permeable pavers are overlaid on a pervious concrete base. Tony has been told it is the first such hybrid overlay installation in North America.

The backyard patio is a standard permeable install with the exception of the inlay and the pergola area. The inlay is a hybrid install with impermeable polymeric joints over a permeable base. Tony says the joints for the small inlaid pavers were too tight to fit #8 drainage stone. The 16' x 42' pergola area is a standard impermeable concrete overlay to support the pillars and other structural elements there.

And finally, a pathway on the side of the house is a permeable paver installation over synthetic base panels designed to allow drainage thru the panels to the subsurface.

As new products come on the market, Tony plans to be at the forefront in using them. "I'm very passionate about what we do and I'm very technical in what we do. It's a science; it's not just Legos.