Contractor Stories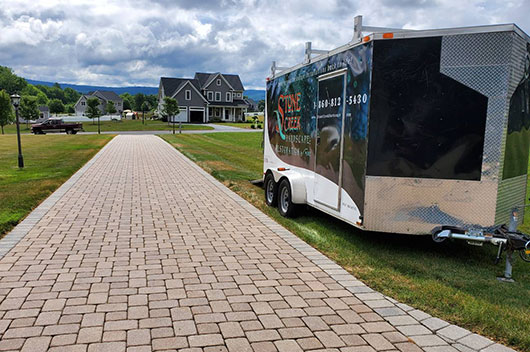 Meeting the demand for hardscape restoration
Profile

Stone Creek Hardscape LLC

Tolland, CT

Founded 2019

Sean Crohan Owner

Derek Crohan Owner

Services

80% hardscape maintenance

20% new Installation

Customer base

90% residential

10% commercial

Average commercial project

$15,000

Largest project

$48,000

Annual sales

$300,000

Employees

0

By Tom Hatlen

For 10 years, Sean Crohan worked for other contractors, mostly installing hardscape. But for a couple of those years he was doing a lot of hardscape maintenance work, restoring old paver projects, cleaning, re-sanding and some sealing. He liked the work, and he saw an opportunity.

"There are millions of square feet of pavers installed out there. And, restoration is not really something that's offered in our area. The market is largely untouched. So, starting up our own restoration company was a no brainer."

Sean learned all aspects of hardscape work during his 7 years working for Bahler Brothers, a well respected contracting company in the area. He's also taken ICPI's installer certification course. For some of his time at Bahler Brothers he worked with Randy Bianchi, a great mentor who is now his rep for Techniseal.

About the time Sean was ready to strike out on his own, his brother Derek was ready for something new. So they became partners. Derek has a bachelor's degree in business and marketing so he handles those aspects of the new business and Sean is in charge of operations.

They have been steadily busy from the time they launched Stone Creek Hardscape Restoration 3 years ago. Today they're booked out 2 to 3 months.

Sean says, "Many customers are amazed when they find out about our company because they've had other companies come out that just want to tear out the old project and rebuild it all new. They don't want to talk about fixing what's there, and helping the customer get many more years out of it.

"So, when we come in we tell the homeowner that while we can't make it look brand new, we can come pretty close – for a quarter of the price depending on the condition of the installation. Just seeing the relief on their faces. When you can save somebody thousands of dollars and improve their property, that's rewarding to me."



What they do

Sean says roughly 80% of their work involves restoration – cleaning, repairs, sanding, and occasionally sealing. The other 20% is installation.

Nearly every job requires some type of repair, and repairs require education and experience to fix. "You need have an all around knowledge of hardscape installation to understand how a repair should be fixed, especially when it comes to retaining walls. But that comes with experience. So, it will take some time to train new people."

Nearly every job also needs new polymeric sand in the joints, not just a surface cleaning. Sean says, "90% of the time there's either no suitable jointing sand in the joints at all. Instead, they're filled with dirt and moss, or there's polymeric sand improperly installed."

They rely on a high psi power washer to remove old sand and dirt from joints because they haven't been satisfied with surface cleaner results. Sean explains, "We've tried using surface cleaners, but they're just not strong enough to clean out joints properly. They just clean the dirt off the surface leaving more of a mess."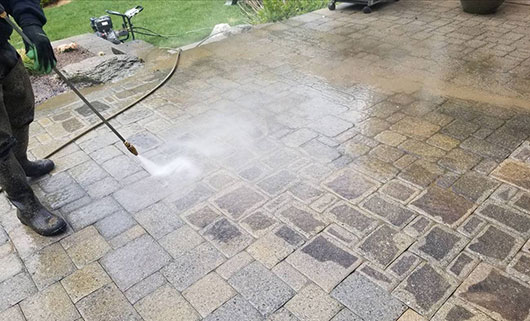 He says the key to cleaning out joints well is to use a grouting nozzle tip on your power washer. "It's a turbine tip that oscillates. It increases the amount of pressure. It's extremely aggressive, and you really have to know how to use it so you don't undermine the pavers."



Facebook marketing

While there is a good market for hardscape restoration, Sean says they still need to get the word out to potential clients. Since most jobs last only 2 or 3 days, they need quite a few jobs each year to fill the pipeline. They score about 1/2 those jobs through client and supplier referrals, and the other 1/2 is generated through Facebook marketing, Derek's specialty.

Derek spends about 40% of his time in the office and 60% in the field where he's learning on the job. "I handle all the marketing, accounting, taxes, scheduling, ordering, everything like that. But I also work out in the field."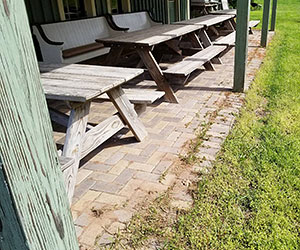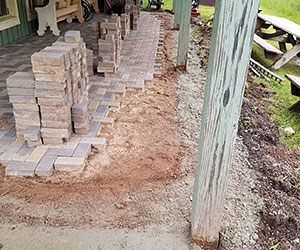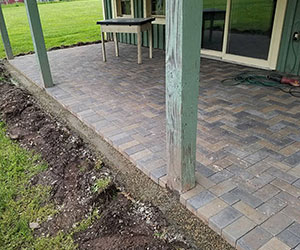 On marketing, Derek says social media has been huge for bringing business in the door. "Instagram and Facebook, those are big ones for us. We take a ton of before-and-after pictures. And just the pictures alone sell jobs pretty easy.

"We post our pictures on a bunch of forums and on Facebook groups for towns around us. People see them and think how much better their patio could look if it's fixed up and all cleaned with new sand in."



Restoration leads to install work

Sean says hardscape maintenance has been a great way to get their foot in the door for additional work. "Once we finish restoring a walkway, the homeowners say, 'Wow, do you install as well?' 'Yes, we certainly do.' And this can lead up to repeat customers who have us come back to build a new hardscape project or an addition to an existing one."

The goal is to work into doing more installations but still keep maintenance and restoration as the major part of the company. Sean says, this year, even with supply shortages they did more installs than the previous 2 years.

"We want to grow the company, but we're trying to do it slow and steady to make sure every project is completed with the highest quality of work. We put as much as we can back into the business. Next year, we will probably hire our first employee.

"I'm hoping by our fifth season to have an independent crew that can go out and do jobs, and I won't have to always be there to supervise. So, I'll be able to be working on another project. I'd like to build up to 2 crews that can do repairs, cleaning and sanding jobs. And then, we could have the crews come together to do installation jobs. This will also hopefully allow us to increase our territory and expand further out from our home base."

If all goes as planned, one day Derek will leave the field entirely to focus on the office and generating more business.