Articles written by guest contributors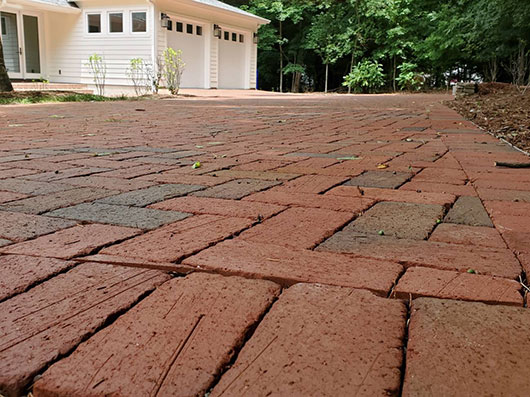 Permeable pavers expand to residential market

By Walt Steele

Permeable paver installations are increasingly specified to fulfill regulatory requirements of storm drainage in residential projects where existing conventional storm drains will not handle an additional load of stormwater.

Municipalities are banning builders from tying in to existing storm drains and are instead requiring them to handle stormwater on-site. In many cases, permeable paver installations were put in to comply with stormwater regulations and cut down on pollutants flowing into waterways; in others, especially in older cities where stormwater and septic sewer is mixed, a permeable installation helps reduce the volume going into sewage treatment plants.



Project Profile

Design/build contractor

Quality Landscapes NC, Inc.

Burlington, NC

JB Brown Owner

Project Designer

Ivan Fisher

Project value

swanson + associates, P.A., Landscape Architecture. David Swanson

Project Manager

JB Brown

Project size

4,000 sf

In-house work

Excavation, paver installation, stone wall

Work done by others

None

Project start

November 2020

Project completion

November 2020

Field employees

5

A regulatory example

One area affected by more restrictive stormwater management regulations is Orange County, North Carolina, home to the towns of Chapel Hill and Hillsborough. In Orange County, construction that adds impervious surface – whether new construction or in some cases, an addition to an existing development – requires stormwater management.

Residential driveways and other impervious surfaces are coming into play because the regulations apply to pieces of property as small as 12,000 sf.

The regulatory changes were put in place to address state-mandated rules for new development, because of pollution in Falls Lake and Jordan Lake that added high levels of nitrogen and phosphorus.

The rules require a professionally prepared site plan, a stormwater management plan, treatment and control of 1" of rainfall runoff; and no increase in peak flow after a 1-year, 24-hour storm.



A residential installation

Homeowners are dealing with the new regulations in a variety of ways. Some are specifying expensive ponds to handle the runoff or making hard-surface driveways smaller by putting in 2 strips for car tires or a narrower driveway, barely the width of a car.

JB Brown owner of Quality Landscapes tells how he dealt with a driveway/parking pad project located in the historic district in Hillsborough, NC. JB specializes in drainage. He said a clay permeable paver installation made the most sense because it both handled water runoff and worked well aesthetically with the surrounding historic district.

"The biggest difference [in a permeable installation] is the base product. The base installation is more in-depth because of the drainage aspect of it," said JB. "We use them most often to slow down runoff of water for water retention and containment or dissipation."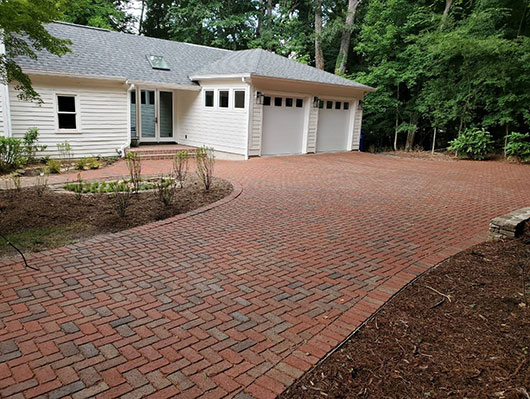 JB said his company has done more standard paver installations in the past, mostly because of cost. But, since the new regulations took effect, he is seeing more interest in permeable pavers.

On this project, the original driveway on the site was part gravel and part concrete. To begin, Quality Landscape dug down to the subgrade and hauled out 18 to 20 truckloads of spoil. Drainage soil separator fabric was put down along with drainage pipes to direct water to a rain garden. All was covered in a base layer of #57 drainage stone and a bedding layer of #9 stone.

The crew used a 10' aluminum powerized screed, commonly used for concrete driveways, to smooth the bedding stone. JB says he likes the power screed because it's fast and leaves a good surface for laying the pavers.

He says that even if the new stormwater regulations had not been enacted using permeable pavers made sense because the property had existing drainage issues. Permeable pavers "made it easier to get the water away and off the property."

"It was much more efficient using them instead of allowing the water to go the length of the driveway and run off the bottom. This way, it drains out and into the backside of the property. We created a spillway level spreader with natural stone to slow it down and let it dissipate out."

But, the proof of a successful project is in how the customer feels about it.

"We have seen them in Chicago," said the homeowner, who wants to remain anonymous. "On our property, we have runoff problems, which is another reason for choosing it. It's sustainable and ecologically sound. We're going to spend a lot of money and go to a lot of trouble, so you might as well do the right thing. I think you are going to see more and more residential use."


Walt Steele is the president and CEO of Pine Hall Brick Company, the largest clay paver manufacturer in the United States with sales in more than 35 different states. Walt represents the 4th generation of management in the family-owned company, which celebrates its 100th birthday this year. Based in Winston-Salem, NC, Pine Hall Brick manufactures face, paving and special shape clay brick for the construction industry. Visit PineHallBrick.com.